Greece, Schinias
This is the oldest Beach Cam of Greece and Europe! It was firstly installed in the summer of 1997 as a web camera which updated an image every 1 hour and eventually, in 2014, turned to live stream.
The goal was and still is to continuously inform sailing and windsurfing fans about the current weather conditions at sea, such as wind speed and wave height.
Schinias beach is one of the most popular coastal resorts in Attica located 45 km north east of Athens and close to the historical Marathon village.

SCHINIAS MORAITIS SPORTS CENTER WEATHER STATION
Οι Webcams λειτουργουν συμφωνα με τον N2472/1997 και τις οδηγίες της ΑΡΧΗΣ ΠΡΟΣΤΑΣΙΑΣ ΔΕΔΟΜΕΝΩΝ ΠΡΟΣΩΠΙΚΟΥ ΧΑΡΑΚΤΗΡΑ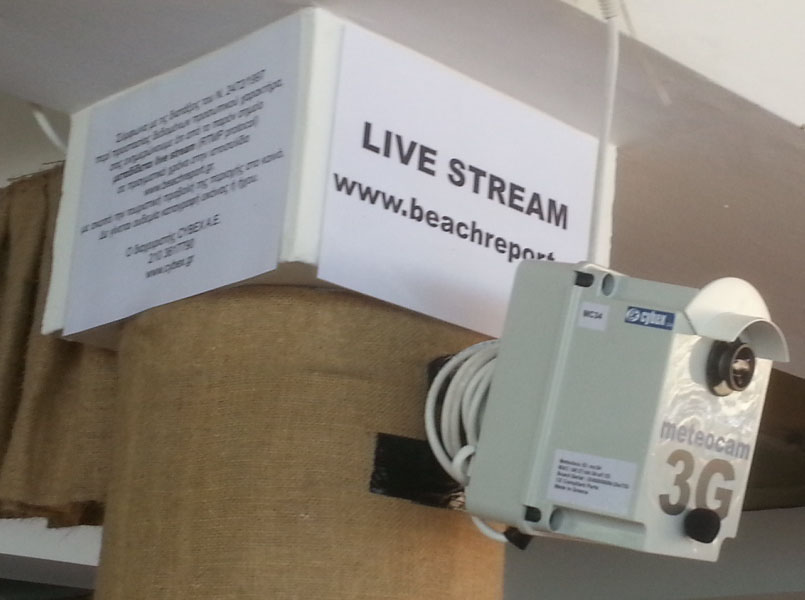 If you wish live coverage of a spot or an event with a MeteoCam,
contact us at +30 2103617790 or at
info@beachreport.gr
---
Αν θέλετε live κάλυψη του event σας με MeteoCam, επικοινωνήστε μαζί μας στο 2103617790 ή στο
info@beachreport.gr
Meteocam GPS
If you cannot see live stream:
Please check if your plugin is Adobe Flash version 10,1 or greater
Iphone and Android mobile phones: you may download and use Puffin browser which supports flash.
Firewall issues: check if RTMP protocol (TCP port 1935) is allowed
Support phone line: +302103617790
Meteocam is a live stream camera made in Greece by Cybex SA. More info can be found
here
3G connectivity is powered by
WIND